Timeless Prescription® Face Firming Moisturizer with MDI Complex™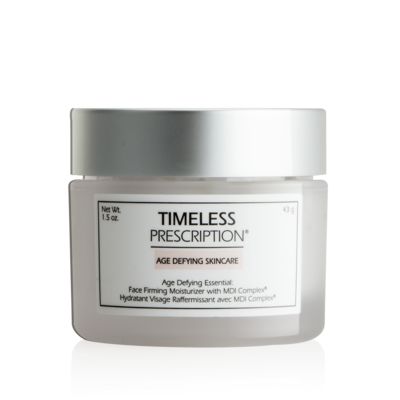 Timeless Prescription Face Firming Moisturizer with MDI Complex is an advanced formula that incorporates multiple moisturising ingredients with various vitamins and botanical antioxidants to help protect skin. In ...
FEATURED RECOMMENDATIONS
Reviews
---
Displaying reviews 1 - 5 of 5
---
Gentle to Skin with Light Texture
Perfect to be used for day and night. Light texture and quick absorption. Very gentle to most skin.
---
Light and easily absorbed
Love this ! It is light and easily absorbed by the skin , keeping it well moistured throughout the day . Suitable for all ages as different skin type .
---
Simply love this product as I used to have really oily skin. After using timeless moisturizer, my skin remains great throughout the day. Definitely will recommend to the people I know.
---
Hydrating, easily absorbed
I love this moisturiser because it is hydrating, light and easily absorbed by my skin. Very suitable for Singapore humid and hot weather.
---
After this face firming moisturizer, do we need to apply sun block?
Response from Customer Service:
14/5/2019
Yes, we should apply sunblock everyday to protect us from harmful UVA and UVB rays. We recommend you to use our Cellular Laboratories® De-Aging Sunscreen Broad Spectrum SPF 50+. It can be apply on face and body.