Motives® Waterproof Eye Pencil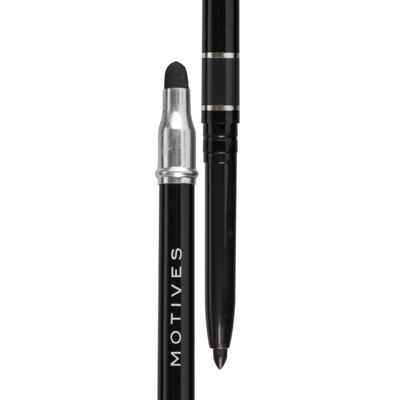 A waterproof eyeliner featuring a unique twist tip that never needs sharpening and a built in smudger for easy blending. The creamy formula glides on smoothly to draw ...
FEATURED RECOMMENDATIONS
Details
---
A waterproof eyeliner featuring a unique twist tip that never needs sharpening and a built in smudger for easy blending. The creamy formula glides on smoothly to draw sleek, sexy, high definition lines and will not transfer, budge or smear.
Benefits
---
Will not smear
Long lasting
Waterproof
Rich colour that glides on smoothly
Blend easily with smudger
FAQ
---
What is the best way to use my Motives Waterproof Eye Pencil?
Gently pull your eyelid taut at an upward angle. Beginning at the inner corner, draw small, connected dashes along the top lashes. Be sure to stay close to the lash line so there is no skin visible between the lashes and the liner. To make eyes look bigger, extend the liner slightly beyond the outer corners. Blend the connected dashes together with the attached smudger.

What look can I achieve with the Motives Waterproof Eye Pencil?
Motives Waterproof Eye Pencils are great for all looks – day or night. Pair with neutral shades to achieve a sophisticated look for the office. At night, smudge the liner and blend with darker, sexier eye shadows for a great smokey eye. Motives Waterproof Eye Pencils resist smearing throughout the day and night so you always have the perfect look.

Which color will complement my eyes?
Because Motives Waterproof Eye Pencils come in a dark brown and a black, every eye colour will be emphasised and look great. Brown and black are neutral colours, so every eye colour will be complemented by the subtle but beautiful colours.

How easy is Motives Waterproof Eye Pencil to remove?
Though it stays on through rubbing and perspiration, when the time comes to cleanse, it can be easily removed with Motives Waterproof Eye Makeup Remover.

How easy is this eye pencil to apply?
Motives Waterproof Eye Pencil is easy to apply because it is formulated to be a soft, smudgy pencil that delivers precise, beautiful colour. The pencil does not require sharpening so the tip is consistently round and soft, making it very comfortable to apply.
Ingredients
---
Mineral Oil
Mineral oil is a clear liquid that functions as both a skin conditioning and hair conditioning agent. In skincare products, mineral oil helps lubricate the skin to keep it looking soft and smooth, and it forms a thin, invisible film on the skin to help slow water loss and help keep the skin hydrated.

Tocopheryl Acetate (Vitamin E)
Vitamin E is a powerful natural antioxidant vitamin that helps to protect and nourish your skin. Vitamin E helps to moisturise your skin while also protecting it from environmental factors, giving your skin a healthy and more youthful appearance.

Aloe Barbadensis (Aloe Vera) Leaf Extract
Rich in enzymes, amino acids and plant compounds, aloe vera helps to keep the skin moisturised, and soothes and rejuvenates the skin, leaving it looking and feeling smooth and firm.

Simmondsia chinensis (Jojoba) Seed Oil
A natural ingredient derived from the seeds of the desert shrub, Simmondsia chinensis helps slow the natural loss of water from the skin and, therefore, helps to keep your skin moisturised, look smoother and firmer, and reduce the appearance of fine lines and wrinkles. Jojoba seed oil is non-greasy and easily absorbed by the skin.
Reviews
---
Displaying reviews 1 - 5 of 6
---
It's exactly what it says it is!
I'm so picky with my eyeliner. This is actually waterproof! It stays on all day! I've cried with this on before and still looked like a million bucks!
---
---
---
我喜欢这眼线笔设计,配方不晕染 妆效持久,而且防水配方.眼色持久,颜色有现代感.
---
This eye pencil is easy to use and smooth gliding on the skin. Not very suitable if you very oily eyelids in my opinion. But overall, it is good quality.