Motives® Pressed Bronzer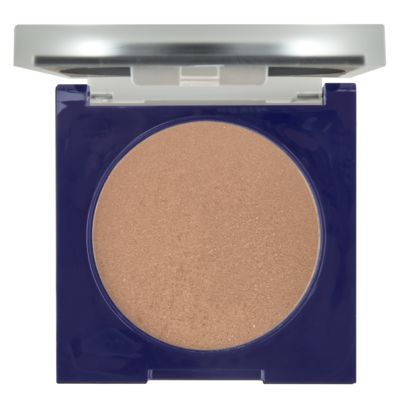 A bronzer offering a natural-looking, sunkissed look with a gold, shimmer-infused glow. This bronzer is excellent for creating or enhancing the look of healthy, glowing, tanned skin.
FEATURED RECOMMENDATIONS
Details
---
A bronzer offering a natural-looking, sunkissed look with a gold, shimmer-infused glow. This bronzer is excellent for creating or enhancing the look of healthy, glowing, tanned skin.
Benefits
---
Creates a natural, healthy glow so skin looks renewed and flawless Blends well; layers exquisitely Soft and luxurious texture in a satin-smooth, non-irritant formula Delivers skin conditioning and antioxidant benefits Works well on women of all skin types and all skin colours
Ingredients
---
Ascorbyl Palmitate (Vitamin C)
Ascorbyl palmitate is a stable form of vitamin C that has similar vitamin C activity to ascorbic acid. Vitamin C is an important antioxidant vitamin that is essential for maintaining your skin's natural collagen. By supporting your skin's natural collagen, vitamin C helps your skin achieve a firmer, suppler and more youthful glow.
Ethylhexyl Palmitate
Ethylhexyl palmitate is produced from palmitic acid, a naturally occurring fatty acid found in plants and animals. It acts as a lubricant on the skin's surface, giving the skin a soft and smooth appearance.
Lonicera caprifolium (Honeysuckle) and Lonicera japonica (Japanese Honeysuckle) Flower Extracts
Honeysuckle flower extracts are rich in saponins and flavonoids, especially luteolin. These natural plant-derived ingredients have antioxidant properties that might help protect and soothe the skin.
Tocopherol (Vitamin E)
Vitamin E is a powerful natural antioxidant vitamin that helps to protect and nourish your skin. Vitamin E helps to moisturise your skin while also protecting it from environmental factors, giving your skin a healthy and more youthful appearance.
FAQ
---
Will this bronzer make me look orange?
No. Assuming you pick the shade that will best complement your skin tone and use it appropriately, Motives Pressed Bronzer will not give you that fake tan look.
Can I use Motives Pressed Bronzer on my body too?
This product is recommended for use on the face and neck only.
Does bronzer substitute as a powder foundation?
Bronzers do not give the same amount of coverage or colouring as a foundation will, so it is usually added on top of foundation. Think of bronzer as an accessory; it usually shouldn't stand alone.
What skin type is Motives Pressed Bronzer for?
Motives Pressed Bronzer works well with any skin type and colour.
How do I apply Motives Pressed Bronzer?
Use the rule of 3s. Dip a brush like a Motives Powder Brush from 8 Piece Brush Set into the powder. Start at your temple and sweep the brush in to your cheekbone, then out and along your jaw line in the shape of a 3. These points of your face catch the most sunlight, so applying bronzer here will give you that fresh, sun-kissed look.
Reviews
---
Displaying reviews 1 - 5 of 82
---
I love the bronzer in Miami Glow. I can use it as a blusher, contour, and even eye shadow. Just love the natural sun-kissed look.
---
Beautiful colors with high pigmentation.
---
This is the first bronzer i have ever used that has completely complemented my skin type and tone. This is an excellent product for my sensitive skin and i highly recommend it. Veneice
---
Beautiful Natural Looking Glow
I LOVE the bronzer in Miami Glow. It truly enhances your natural beauty, and gives you that natural sunkissed look.
---
I've been using Motives "Miami Glow" Bronzer for about a month now and I LOVE IT!! The very first time I put it on, I walked away from the mirror for a minute or two and went back to add the final touches to my face, I had to take a step back because my entrie face looked completely different. All I could say in that moment was "Wow".. Now I wear it everyday on my cheek bones, down the center of my nose and I even wear it on my chest for that extra shimmer and pop!! I am completely in love with this product and will continue to use it. I've told all my family and friends about it. It's awesome!! Thanks so much!