Motives® No More Shine Makeup Setting Spray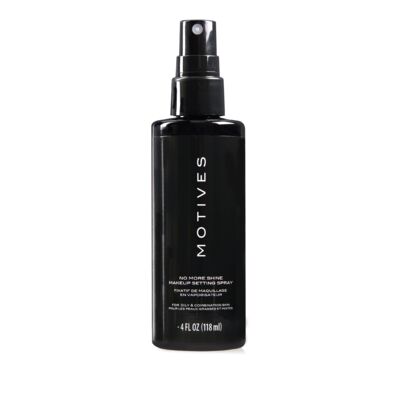 A setting spray that mists on weightlessly to control oil, deflect surface shine and keep skin looking beautifully matte. Oily skin has met its match! Keep your skin ...
FEATURED RECOMMENDATIONS
Reviews
---
Displaying reviews 1 - 5 of 7
---
A must have for all who make up
Superb product that can hold my make up for more than 8hours! Personally really think everyone who make up should get one of this.
---
Most of us, Asians have either oily skin or combination skin. And due to our weather climate, its very humid and hot. Whenever we wear makeup, we will tend to sweat and automatically our skin will also be oily. But when I use this No More Shine Makeup Setting Spray, my makeup can be maintain thruout the day. Even if I perspire, I'll just take a piece of tissue and dab my sweat away and finish it off with this setting spray. My skin will feel and look fresh again like the first time I wore my makeup in the morning.
---
A great setting up spray for oily face
I am a guy who has an oily face and it just doesn't look good on me especially a whole day under the hot weather like Singapore. Not till I use this NO MORE SHINE.
---
Really keeps your face looking great!
My skin gets more oily during the summer in the heat, so I use this along with Ten years Younger spray. This one really helps with oil, whether I have makeup on or not! Spray it on after moisturizing, wait about ten minutes before applying makeup, and then spray again at the end, love it!
---
When I found out about this, I had to try it. I was using the 10 years younger before until I realized that this would work so much better. I was actually applying it after all of my face was done. But I read somewhere that you should apply this before primer then again after your face is done to seal it in. Does the trick! For people who have oil skin like myself, it really helps!