Details
---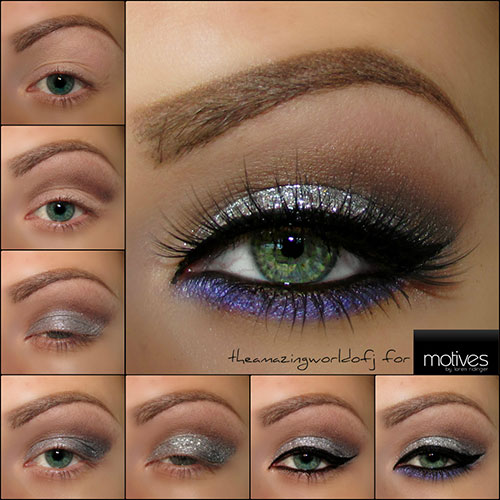 A versatile glitter makeup for the face and body. These lightweight, fine particles of bright light add glamour to any look.
Create This Look:
Apply Motives Pressed Eye Shadow in Hot Chocolate to the crease of the eye.
Apply Motives Pressed Eye Shadow in Stardust the the eye lid.
Apply Motives Glitter Adhesive to the lid.
Dab on Motives Glitter Pot In Celebrate over the glitter adhesive.
Create a winged top line using Motives Liquid Eyeliner in Noir.
Line the bottom tear line with the Motives Liquid Eyeliner in Noir.
Finish by lining the bottom lash with Motives Pressed Eye Shadow in Glamour.
*Some products shown may not be available.

Benefits
---
Adds sparkle to the eyes
Lightweight, fine particles add glitter to any makeup
Different colours to accentuate any eye colour
Creates subtle or bold looks with varying application
FAQ
---
How do I use Motives Glitter Pots?
Apply Motives Glitter Adhesive before Glitter Pots
Use Motives Eye Blender Brush to apply a heavy amount all over the lid, face or body
Use Motives Angled Eyeliner Brush to apply along the lash line for a subtle glitz
Use your finger to apply a small amount over your favourite Motives Pressed Eye Shadow to enhance the eye
Why do most people like Motives Glitter Pots?
Motives Glitter Pots are a lightweight formula used to accentuate any look day or night. This product can be used to add a little bit of glitter or a lot, depending on your mood, and also to enhance your eye shadow. Use Motives Glitter Pots alone for a funky glam look or pair with your favourite Motives eye shadow.
How can I create a more toned-down look for the office?
You can create subtle or bold looks with varying application. For a more professional look, use glitter sparingly. Applying a very little to the eye will catch the light and add subtle sparkle throughout the day. We suggest applying a small amount to the outer corner of the eye for a subtle look.
Can I use Motives Glitter Pots by themselves without applying any other eye shadow?
Yes, you can apply Motives Glitter Pots by themselves or pair with your favourite shade of Motives Pressed Eye Shadow.
Do the colours of Motives Glitter Pots vary?
Yes, there are several different colours of Motives Glitter. Create fun and chic looks for day or night with Motives Glitter Pots.
Ingredients
---
Polyethylene Terephthalate, Acrylates Copolymer.
May Contain: Aluminum Powder (CI 77000), Blue 15:1 (CI 74160), Black 7 (CI 77266), Yellow 83 (CI 21108), Red 190 (CI 71140), Violet 23 (CI 51319), Red 123 (CI 71145), Red 122 (CI 73915).
Reviews
---
Displaying reviews 1 - 5 of 15
I used it with Motives Adhesive stick to put the glitter on eyes for my judging night at Mrs East Asia 2018 and stage function. It stays throughout the night . The dramatic look of eyes looks great under the shinning lights and from far the eyes stand out with twinkle twinkle look . Grace Chew
These litterally add drama to your eyes! Add them with eye shadows or as eyeliner!! Will miss embellish!!
I have the aspire and celebrate glitter pots. I use it with Motives Adhesive Stick and it stays on all night when I go out. The glitter doesn't make too much of a mess when applied. I want to get the rest of the glitter pots!
I use this product as eyeliner and eyeshadow as well.This is such a fun product to use for party
2/1/2012
by DANIELLE AND JOSEPHG
I wore this for New Year's Eve and got many compliments. Everyone thought it was fabulous! It was easy to apply and I was surprised by how fine it is (I was expecting it to be more "chunky", like most other brands). The only problem I ran into was that by the end of the night it was starting to fall off, but I used a cheap glitter glue from [@] and attribute it to that. Next time I'll try it with the Motives glitter glue.