Lumière de Vie® Super Crème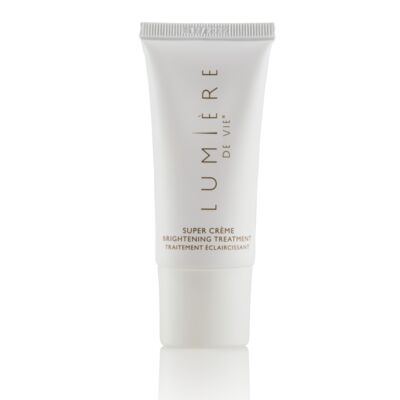 A luxuriously rich crème that reduces the appearance of dark spots and hyperpigmentation, this triple action formula is designed to brighten, hydrate, and prevent. Scientifically formulated with tranexamic ...
FEATURED RECOMMENDATIONS
Reviews
---
Displaying reviews 1 - 5 of 6
---
Super Creme brightens up my uneven skin tone just after two weeks of consistent application. My face shows a significant improvement and it looks clearer and fairer. I applied super creme on my elbows and knees and it is showing positive results too! Love it!
ML
---
As the product named, it help me to look youthful and I don't feel dryness on my face. I love the cream so much
---
Super Cream, Super Product
Love the SUPER light texture. Used it together with LDV fading fluid in the evening before bed. My complexion is much clearer now & my pigment has lighten juz after a month use.
---
My face became Brighter and more radiant
After using just half the bottle of the product. I feel that my face looks brighter and more radiant.
---
Used together with the illuminating fading fluid. The result is amazing. Not only spots get lighter but the skin also get softer and smoother.