Lumière de Vie® Brightening Kit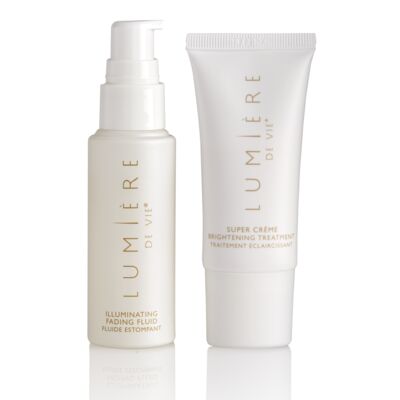 The Lumière de Vie Brightening Kit is ideal for all skin types and enjoy special savings  compared to purchasing the products separately. The kit includes Illuminating Fading Fluid ...
FEATURED RECOMMENDATIONS
Reviews
---
Displaying reviews 1 - 5 of 6
---
Great pairing for brightening skin
It stops my pigmentation from deteriorating. Great texture for the Super Creme. You can really feel the difference after the application.
---
A great present to my sister, helped her pigmentation to fade away. I can still remember when she showed me the result with smile on her face
---
Effective & painless Fading away
Illuminating Fading Fluid and Super Crème that work together effectively to reduce the age/dark spots, redness and hyperpigmentation. This powerful duo also helps painlessly ( without have to laser etc) to brighten the skin's overall appearance for a more radiant complexion.
---
Great, and feel an effective result.
---
一直已来都有斑的问题困扰着我,在朋友的介绍下我开始使用这个淡斑系列,用了快一年,我发现我的斑变淡了,脸看起来也没这么暗沉。真的很开心!我相信继续持续的用下去,会变得更好!这个产品真的太值得推荐给想要改善斑的问题的朋友!