Cellular Laboratories® De-Aging Moisturizing Day Crème SPF 20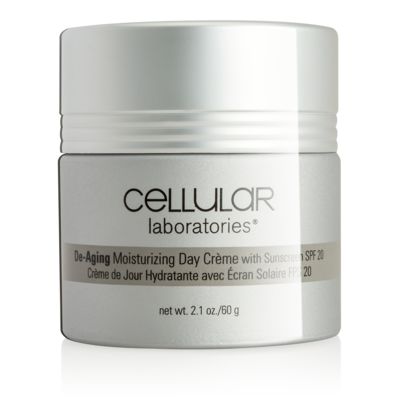 Cellular Laboratories De-Aging Moisturizing Day Crème SPF 20 helps to protect the skin from premature ageing brought on by environmental stresses for a more youthful look. The sun ...
FEATURED RECOMMENDATIONS
Details
---
Cellular Laboratories De-Aging Moisturizing Day Crème SPF 20 helps to protect the skin from premature ageing brought on by environmental stresses for a more youthful look. The sun is harsh on skin, causing fine lines, wrinkles, age spots and unevenness.
The proprietary blend helps protect against free radicals, optimise moisture retention to minimise the appearance of fine lines and wrinkles, and defend against harmful exposure to UVB rays. Use this day crème as a makeup base that preps your skin for makeup application, and to keep your look fresh throughout the day. Protect your skin daily with this Moisturizing Day Crème with SPF 20.
Benefits
---
Multi-purpose hydrating cream with sunscreen protection against UVB rays
Smoothes, softens and moisturises the skin
Excellent pre-makeup base for all skin types
Light texture enables moisture retention and comfortable wear
Absorbs quickly and leaves no residue
Paraben-free formula
FAQs
---
How do I use Cellular Laboratories De-Aging Moisturizing Day Crème SPF 20?
Apply liberally to clean skin 15 minutes before sun exposure, allowing to absorb fully. Use a water-resistant sunscreen if swimming or sweating. Ask a doctor before use on children under 3 years of age.
Is the De-Aging Moisturizing Day Crème SPF 20 acceptable for everyday use?
Yes, it is important to wear a sunscreen every day, and the De-Aging Moisturizing Day Crème SPF 20 is perfect for daily use. It absorbs quickly into the skin to provide protection against the sun and is perfect for use before the application of makeup.
What are the effects of the bio-engineered human growth hormone-like peptide ingredient?
Sh-polypeptide-7 helps to reduce the appearance of fine lines and wrinkles and supports the skin's vitality. Along with the preventative SPF 20, the De-Aging Moisturizing Day Crème SPF 20 is both a reactive and proactive solution.
Is this product tested on animals?
Cellular Laboratories does not conduct or commission animal testing of any finished product.
Ingredients
---
Teprenone
This unique, comprehensive ingredient helps fight against many of the visible signs of ageing, significantly improving the look of the skin's surface, for a smoother, more uniform appearance.
Sh-polypeptide-7
A synthetic peptide s">

Ceramide II
Ceramides support the skin's natural moisture retention and helps maintain the skin's natural barrier system. These intensive hydrating properties help keep the skin looking smooth and supple.
Sodium PCA
Powerful, natural moisturising agent that is found in human skin and is part of the natural moisturizing factor of healthy skin. Has been shown to hydrate the skin more effectively than traditionally used compounds in skincare products.
Vitamin A (Retinyl Palmitate) and Vitamin E (Tocopheryl Acetate)
Vitamins A & E have antioxidant properties that may help protect the skin from the effects of free radicals, helping keep the skin looking healthy and youthful.
Panthenol
Panthenol is an emollient skin conditioning agent and as such it acts as a lubricant on the skin surface, which helps give the skin a soft and smooth appearance. Panthenol has been reported to have soothing properties and to help maintain the skin's natural barrier functions and thus help keep the skin hydrated.
Full Ingredient List:
Active Ingredients:
Octinoxate: 7.50%
Oxybenzone: 3.00%
Octisalate: 3.00%
Titanium Dioxide: 0.40%
Other Ingredients:

Water (Aqua), Propylene Glycol, Glyceryl Stearate, PEG-100 Stearate, Stearic Acid, Caprylic/Capric Triglyceride, Dipropylene Glycol, C12-15 Alkyl Benzoate, Ceramide 2, Glycyrrhiza Glabra (Licorice) Root Extract, Lonicera Caprifolium (Honeysuckle) Flower Extract, Zizyphus Jujuba Fruit Extract, Sodium Hyaluronate, Sh-Polypeptide-7, Cetyl Alcohol, Tocopheryl Acetate, Butylene Glycol, Sodium PCA, Panthenol, Lecithin, Retinyl Palmitate, Dimethicone, Acrylates/C10-30 Alkyl Acrylate Crosspolymer, Allantoin, Teprenone, Sodium Phosphate, Alumina, Triethanolamine, EDTA, Sodium Chloride, Disodium EDTA, Caprylyl Glycol, Phenoxyethanol, Fragrance (Parfum), Butylphenyl Methylpropional, Limonene
Reviews
---
Displaying reviews 1 - 5 of 29
---
My daily morning cream that keeps my skin hydrated before application of foundation. The motives foundation glides easily with smooth finishing. Plus it has SPF20.
Something that I can't live without!
---
This moisturiser is just great for my aged skin. Non oily and easy to apply. And comes with spf 20. A very good moisturider as a make up base too.
---
Never leave home without it!
I have sensitive skin and the range of Cellular Laboratories products really suits me. I love the De-Aging Moisturizing Cream SPF 20 because it is light and glides on easily on my skin to gives it moisture without being too oily nor greasy. It is a perfect base before putting on my makeup for the day. Best of all, it keeps my skin hydrated and supple throughout the day!!!
---
Great moisturiser for all skin types!
I've sensitive combination skin (I'm female), and a male customer of mine who also uses this product has very oily skin. What is amazing is that the ingredients contained within this moisturiser have a great balance/pH - neither me or my customer feel like our skin is greasy, dry, dull or our pores clogged. It's great that it contains sun protection, so there's no need to wear sunscreen together with the moisturiser. It's lightweight once applied with very little scent. I highly recommend this product for both men and women, and for all skin types.
---
I love this product. I use it twice everyday. The only way I could see you improving it is to make a larger bottle!