Cellular Laboratories® De-Aging Facial Cleanser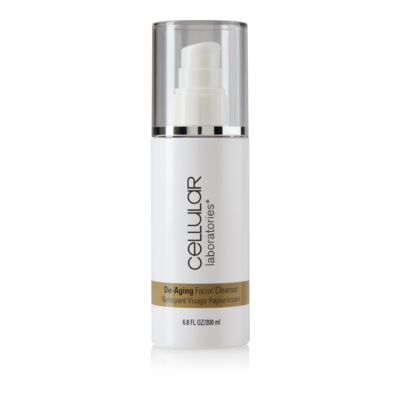 Cleansing is a vital part of your skin care regime in order to purify, refresh and maintain a healthy-looking complexion. Cellular Laboratories De-Aging Facial Cleanser is a botanical-infused, ...
Details
---
Cleansing is a vital part of your skin care regime in order to purify, refresh and maintain a healthy-looking complexion. Cellular Laboratories De-Aging Facial Cleanser is a botanical-infused, foaming cleanser that gently cleanses the skin without stripping it. This versatile, anti-ageing formula leaves the skin nourished and hydrated to promote a healthy, vibrant and youthful-looking complexion. The perfect blend of ingredients helps to boost the skin's moisture retention as it gently dissolves makeup and impurities. Deep clean with Cellular Laboratories De-Aging Facial Cleanser, specifically designed for mature, dry skin.
Benefits
---
Gently cleanses the skin to reveal younger, healthier-looking skin
Skin feels soft, smooth and moisturised after washing
Non-irritating blend of plant and marine extracts comforts, soothes and conditions skin
Ideal for normal, dry, mature and uneven complexions
Paraben-free formula
FAQs
---
How do I use De-Aging Facial Cleanser?
Use daily to cleanse off dirt and makeup. Pump a generous amount into palm. Massage onto face in a circular motion to clean and remove makeup. Rinse off with water. Can be used anytime, day or night. For maximum anti-ageing effects, follow with Cellular Laboratories serums and crèmes.
Is the De-Aging Facial Cleanser acceptable for all skin types?
The De-Aging Facial Cleanser contains excellent moisturising capabilities without stripping the skin or clogging pores, and is designed specifically for more mature, dry skin.
How often should I use the Cellular Laboratories De-Aging Facial Cleanser?
The Cellular Laboratories De-Aging Facial Cleanser is perfect for use in the morning to start your day off refreshed. Follow with the De-Aging Toner and De-Aging Moisturizing Day Crème with SPF 20 for sun protection. It is also the perfect option at night to wash away impurities accumulated throughout the day.
Why is using a cleanser important?
Cleansing is one of the most important things you can do for your skin every day. This helps to remove impurities, and unclogs pores to prevent breakouts and build up. After cleansing, it is important to follow with a toner, treatment and moisturiser.
Is this product tested on animals?
Cellular Laboratories does not conduct or commission animal testing of any finished product.
Ingredients
---
Teprenone
This unique, comprehensive ingredient helps fight against many of the visible signs of ageing, significantly improving the look of the skin's surface, for a smoother, more uniform appearance.
Alteromonas Ferment Extract
This extract from the deep sea Alteromonas species of bacteria is a concentrated polysaccharide (complex sugar) with soothing properties. These properties can help calm skin.
Bacillus Ferment
An exfoliating enzyme that gently eliminates dead skin to reveal younger, healthier-looking skin.
Sodium PCA
A powerful moisturising agent that is found in human skin and is part of the normal Moisturising Factor of healthy skin. Has been shown to hydrate the skin more effectively than traditionally used compounds in skin care products.
Aloe barbadensis (Aloe Vera) Leaf Juice
Aloe vera, containing enzymes, amino acids, vitamins, minerals, and other plant compounds, is a well-known moisturising ingredient, helping to keep the skin hydrated and looking smooth and firm.
Full Ingredient List:
Water (Aqua), Sodium Laureth Sulfate, Cocamidopropyl Betaine, Lauramide DEA, Glycerin, Aloe Barbadensis Leaf Juice, Portulaca Oleracea Extract, Achillea Millefolium Extract, Chamomilla Recutita (Matricaria) Flower Extract, Foeniculum Vulgare (Fennel) Fruit Extract, Humulus Lupulus (Hops) Extract, Melissa Officinalis Leaf Extract, Viscum Album (Mistletoe) Leaf Extract, Alteromonas Ferment Extract, Bacillus Ferment, Allantoin, Butylene Glycol, Panthenol, Salicylic Acid, Sodium PCA, Glycol Distearate, Urea, Olive Oil PEG-7 Esters, Caprylic/Capric Triglyceride, Teprenone, Propylene Glycol, Citric Acid, Sodium Chloride, Alcohol, Polyquaternium-10, Caprylyl Glycol, Disodium EDTA, Chlorphenesin, Phenoxyethanol, Fragrance (Parfum), Amy Cinnamal, Benzyl Salicylate, Hydroxyisohexyl 3-Cyclohexane Carboxaldehyde, Benzyl Benzoate, Citronellol, Hexyl Cinnamal, Butylphenyl Methylpropional.
Reviews
---
Displaying reviews 1 - 5 of 35
---
Very moisturizing facial cleanser
It is definitely suitable for 30s and above. It kept my complexion well!
---
Great cleanser that leaves my face clean and fresh after each use.
---
Every time after using this cleanser, I find my skin to be very smooth and my wrinkles and dark spots become less visible. And I feel very clean and refreshed. I love this product!
---
I've sensitive, combination skin so need a product that can perform a "deep cleanse" without being harsh on the skin. I'm relieved that I need only a small amount of product (3 light pumps) to get that desired result. The price is fantastic considering it takes 5 months (potentially 6) to finish. Since using this product I've received multiple compliments from strangers and family/friends on the look/quality of my skin, and I too noticed a vast improvement in a very short space of time. Great product for all skin types, ages, and men and women alike!
---
Don't let the price scare you!
Always used a "cleansing bar" until this--no comparison in how it cleans, how my skin feels AND looks after--amazing! And so concentrated that one pump takes care of face and neck, so this has lasted for months months! Never will use another, and for mature skin (60++!) it is the best!