Cellular Laboratories® De-Aging Facial Cleanser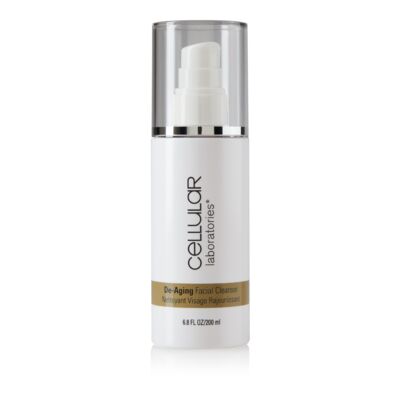 Cleansing is a vital part of your skin care regime in order to purify, refresh and maintain a healthy-looking complexion. Cellular Laboratories De-Aging Facial Cleanser is a botanical-infused, ...
Reviews
---
Displaying reviews 1 - 5 of 34
---
Great cleanser that leaves my face clean and fresh after each use.
---
Every time after using this cleanser, I find my skin to be very smooth and my wrinkles and dark spots become less visible. And I feel very clean and refreshed. I love this product!
---
I've sensitive, combination skin so need a product that can perform a "deep cleanse" without being harsh on the skin. I'm relieved that I need only a small amount of product (3 light pumps) to get that desired result. The price is fantastic considering it takes 5 months (potentially 6) to finish. Since using this product I've received multiple compliments from strangers and family/friends on the look/quality of my skin, and I too noticed a vast improvement in a very short space of time. Great product for all skin types, ages, and men and women alike!
---
Don't let the price scare you!
Always used a "cleansing bar" until this--no comparison in how it cleans, how my skin feels AND looks after--amazing! And so concentrated that one pump takes care of face and neck, so this has lasted for months months! Never will use another, and for mature skin (60++!) it is the best!
---
Definitely a De-aging Facial Cleanser
As a mature woman, i found my skin losings its elasticity . Since using the cellular cleanser , I found a sothness in the product that made me feel radient , clean & fresh wihout being harsh on my skin. It serves me well. Thank you Cellular Laboratories.