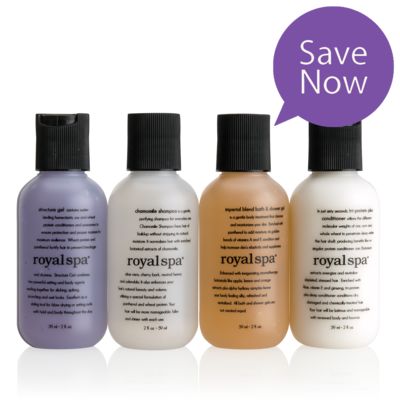 Royal Spa™ Travel Kit
$35.00 SGD
$0.65 SGD Cashback
Includes Bath & Shower Gel, Chamomile Shampoo, Tri-Protein Conditioner, Structure Gel
|
sku: SG12023
This product qualifies for free or flat-rate cost shipping. Learn More
Description
---
Take your spa-time on the road with this TSA-compliant kit which features all of the essentials for better-looking skin and hair.
Benefits
---
Contains four great skin and hair-nourishing products which meet TSA regulations and make for convenient travel (2 oz. Chamomile Shampoo, 2 oz. Imperial Blend Bath and Shower Gel, 2 oz. Structure Gel, 2 oz. Tri-Protein Plus Deep Conditioner)
Easy-to-carry travel bag
FAQs
---
Can I give this as a gift? Yes. This travel kit is a great gift for someone who hasn't tried Royal Spa™ products and would like to get an idea of the benefits that come with their use.
How long will this kit last? If used daily, this kit will last approximately two weeks.
Can I take these products on an airplane? Yes, you may bring liquids, aerosols and gels (LAGs) with a maximum capacity not more than 100ml each (not exceeding 1-litre in total). Place these item in a transparent re-sealable plastic bag which must be completely closed.
Does this travel kit come with a carrying case? Yes. For your convenience, the travel kit does include a carrying case.
Is this product tested on animals? No. Royal Spa™ products are not tested on animals.
Ingredients
---
Retinyl Palmitate (Vitamin A)
Retinyl palmitate is an ester of Vitamin A (retinol). It has antioxidant properties and is classified by the cosmetic industry as a skin and hair conditioning agent. As such it is often used in skin and hair care products to enhance the appearance and feel of skin and hair.

Tocopheryl Acetate (Vitamin E)
Tocopheryl acetate is a form of vitamin E, which is a family of related compounds called tocopherols and tocotrienols. The vitamin E family is well known for its antioxidant capabilities. Tocopheryl acetate is used as an antioxidant and a skin conditioning agent to help maintain your skin's healthy, youthful appearance.
Camellia sinensis (Green Tea) Extract
Green tea extracts are rich in natural plant antioxidants, the catechins being the best known. Because of their well-known antioxidant properties, green tea extracts are commonly used in cosmetic products to help condition the skin, which helps support a youthful-looking complexion.
Glycerin
Glycerin is a skin conditioning humectant ingredient, which means that it helps keep the surface of the skin hydrated, helping it retain a soft and smooth appearance.
Aloe Barbadensis Leaf Juice
Aloe is used in many cosmetic products as a skin and hair conditioning agent. Aloe barbadensis Leaf Juice contains natural components that may help make hair look soft, healthy, and strong. Aloe contains amino acids, which can penetrate and nourish the hair, helping it to retain moisture, body, shine and smoothness.
Hydrolysed Wheat Protein
Hydrolysed Wheat Protein is a moisturising and conditioning protein derived from whole wheat. Proteins, including hydrolysed wheat protein are well known for the ability to bind to and penetrate the hair shaft, allowing it attract and retain moisture, which improves hair's smoothness, lustre, and manage to ability.
Panthenol (pro-vitamin B5)
Panthenol is a precursor to vitamin B5 and can be converted to vitamin B5 in the skin and hair. In cosmetics it is classified as an emollient skin conditioning agent and as such it acts as a lubricant on the skin surface, which helps give the skin a soft and smooth appearance. Panthenol can also bind to and penetrate the hair shaft, helping to moisturise and condition the hair to keep it looking soft and smooth and ease manageability.
Phytantriol
Phytantriol is both a skin and hair conditioning agent, though it is more often used in hair care products. When used in the formulation of hair-care products, phytantriol enhances the appearance and feel of hair. Additionally, phytantriol has been reported to work synergistically with panthenol to strengthen hair.
Botanical Extracts
Botanical extracts are used in hair care products for their fragrance properties and their hair conditioning properties. Many botanical extracts, such as Gotu Kola (Centella asiatica), Ginseng (Panax ginseng), Henna (Lawsonia inermis), Marigold (Calendula officinalis), Hops, (Humulus lupulus), and Golden Seal (Hydrastis Canadensis) contain antioxidant compounds and have been traditionally used in hair care products to help condition the skin and hair, thus helping to keep hair looking full and healthy.